At Fleming Florist we know the most important thing about your wedding is you. At Fleming Florist we are willing to give our experience & expertise to help you perfect your wedding day. At Fleming Florist we don't only know where to find the best flowers in Naas and Kildare but we have the best insight into the best Wedding Dresses in Naas and the best Wedding Band too!
Lots and lots of brides (and grooms) come through our door every month, and we love hearing all about their weddings and their plans. We, at Fleming Florist, are in 'the know' when it comes to anything wedding. And we would like to give you our recommendations from the word on the street!
Truly Bridal Boutique in Naas, Co. Kildare are easily accessible from all routes & just a short journey from Dublin along the
N7. At Truly Bridal Boutique you will be spoilt for choice with their gorgeous collection of Wedding Dresses, bridesmaid's dresses and wedding accessories. Experienced help at hand & your own spacious Dressing Room Suite, they will help you to find a Wedding Dress that suits your shape & makes you feel amazing for your wedding day. At Truly Bridal Boutique they know how to find you the perfect Wedding Dress that you will love forever & ever.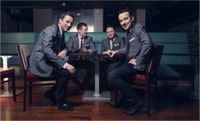 Now that we have the Flowers and the Dress sorted we would like to introduce you to the award winning Wedding Band – Pink Champagne Band – They are 2015 winners of wedding bank of the year. Cathal and his band are members of The Wedding Band Association, bringing you all the peace of mind for your big day. They promise to fill your dancefloor. They have amazing set lists on their website for you to choose with everything from The Moneys to Rihanna.
Pink Champagne Band have been shortlisted for many awards in the last 6 years, and their testimonials speak for themselves.
We would like to wish Truly Bridal Boutique and Pink Champagne Band all the best with their success in 2016.